Welcome to the Unisys CWD Surplus info Page!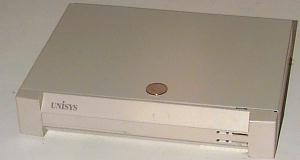 This is just the roughest start on a repository of information on the cool, tiny, Unisys CWD workstations which just appeared on the surplus market.
Since a number of people have acquired these machines and are all searching for the same information I have setup this web page to pass on what I and others have learned.
I purchased mine from Halted Specialties a great surplus electronics house in Sunnyvale, CA (my ex-home). Alas, they sold out very quickly and don't anticipate receiving more!
The machine has interesting features:
Small size: (approximately 8" x 11" x 3")
Integrated peripherals

Twisted pair style Ethernet
VGA Display
IDE controller
Floppy controller
PS/2 compatible Keyboard/Mouse
2 D-9 Serial ports
1 Parallel port

One standard expansion card slot
Integrated power supply
Standard 1/2 height 3.5" IDE drive bay
Laptop floppy drive bay
My machine came with a 486 DX2/33, but others have put faster CPUs in these machines. (more details to come)
These machines have run WIN95 with stock drivers, and have been reported to run LINUX as well. I plan to run LINUX diskless on this machine, with a local swap disk, and boot it off the network.
One big issue for these machines is where to find floppy drives for them. The machines actually take a tiny laptop form factor floppy:
TEAC 1/3 Height Floppy
Model # FD-05HG4661-U
part # 1930 7546-61
Sources for CWD machines:
Symco Group

Mike Williams
(770)451-8002
They resell these machines mostly to Financial Institutions
Sources for Memory and CPUs:
The Chip Merchant has reasonable prices on:

CPUs
SIMMs
256x16-60 SOJ video chip (needed by the CWD to do 24-bit color)

A 1995 CWD Press Release from Unisys.


Thanks to the following folk for help/input/information:
Darin Pfaff: For providing much of the information/motivation for the page
Rob Scott: For turning me onto the deal in the first place, and providing LINUX info
Mike Williams: For spending time on the phone helping me, especialy when he knew he wasn't going to make a sale!
Ken Greenebaum: Just for being me.
Other Information online:
Contact me if you have information to add or correct... Click HERE to return to my hobbies page.